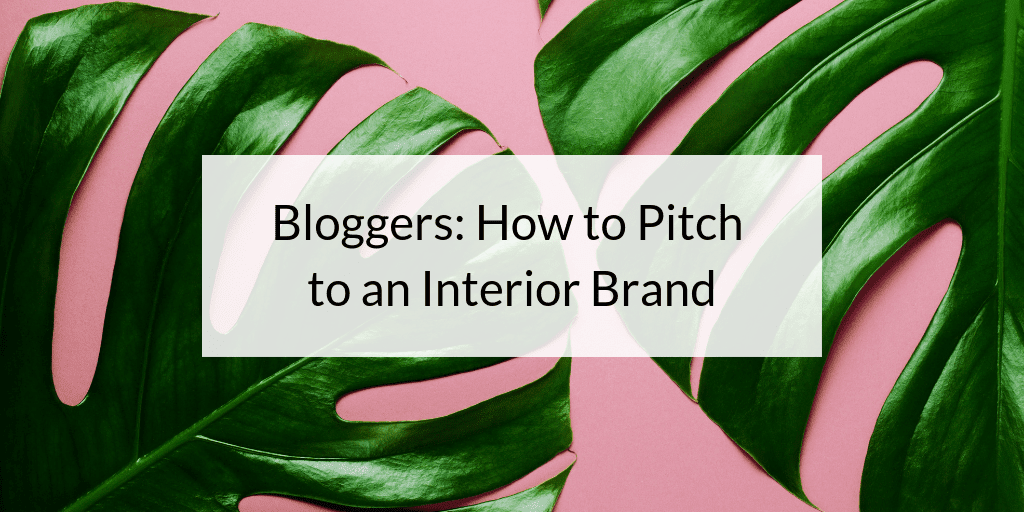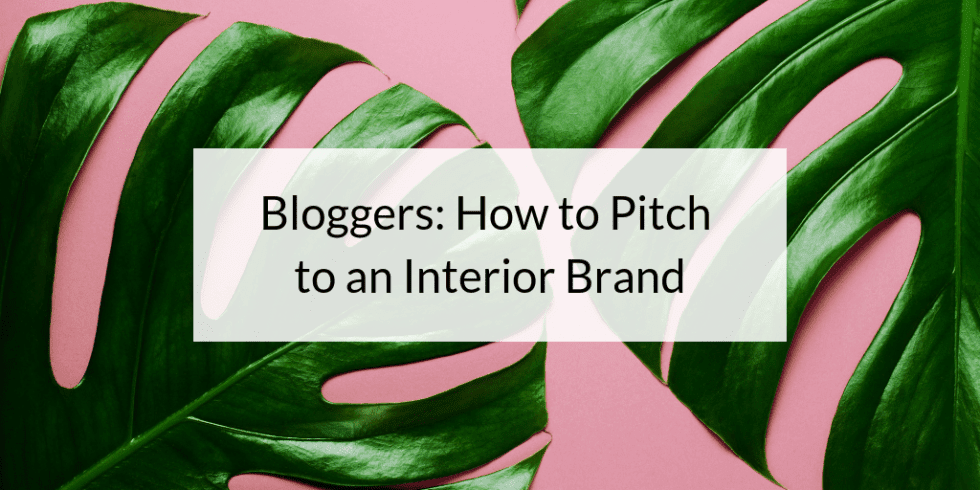 Regularly posting great content, interacting with the blogging community and chatting with brands on social media is a great way to get yourself out there and encourage brands to come to you. But what if you want to be proactive and pitch to interiors brands as a blogger? Reaching out can be a fantastic way to begin or further the monetisation of your blog, as well as building relationships for the future.
Whether you're a relatively small blogger with a close knit community of followers or you've been posting for years and want to take your blog to the next stage, making the first move can seem scary. To help you along, we've created a guide explaining how bloggers can pitch to interiors brands in a way that will get them maximum success! In our guide you'll learn how to research for and structure your pitch, as well as what to do after you've sent it:

Why Pitch to Interiors Brands as a Blogger?
– You're able to pick and choose the brands you approach, ensuring they're a great fit for your blog and will be popular with your followers.
– You can introduce yourself to brands and PRs. Even if you don't get the go ahead this time, they will remember you for the future.
– If you're working on a particular room or style, you can ensure products will be a great fit for that specific project.
Before You Write a Pitch
There are some super important things to think about before you even write the first word of your pitch! These will ensure that your pitch not only lands in front of the right person at the right brand, but that it actually gets read! Brands and PRs get loads of emails (just like bloggers!) so you want to ensure that yours stands out in the right way.
Research The Brands
Make sure to research the brands you're interested in working with so you know all about their products, styles and ethos. Then consider these questions:
– Are their products right for your audience?
– Have they worked with bloggers in the past?
Reaching the Right Person
In order to find the right person to email your pitch to, you might have to do a little digging. Start on the interiors brand's website and look at their "press" section to see if there is a contact email. If not, try LinkedIn where you'll be able to see the employees of that company and try to find the person that works in marketing, PR or outreach. If you still can't find anything, you could tweet or email the company and ask about the best person to contact for collaborations and partnerships. The brand might use a PR company for their outreach instead of having someone who works in their offices. The PR company might work with lots of brands, but it's best to have a particular one in mind.
A useful tip is to try to find the first name for the person you're trying to reach – putting this in the top of your email instead of a generic greeting can make it look like you've really done your homework.
Planning for Your Pitch
Brands are getting more savvy when looking at potential bloggers to collaborate with – it isn't all about numbers but more about engagement as working with bloggers is seen as an investment by the brand. You may be able to prove that the company's products will appeal to your audience, but can you prove that you have influence over your followers and that collaborating with you will benefit the brand? Take a look at the Google Analytics dashboard for your blog and insights for any referral links you have posted about to help you with this.


Think about what you'd like from the brand as well as what you can offer them. Are you looking for monetary compensation, products from their collections or something else? Again, be able to prove why your posts and mentions would be an asset to the brand. The length of time spent creating your content isn't useful in calculating your worth – you're working with the brand, not for them.
Find examples of blog or social media posts which really sell yourself and what you can do. Remember that they should be relevant – content like outfit posts isn't helpful when pitching to a homeware brand.
Writing Your Pitch
Writing the pitch can be the trickiest part of the process, but it's easy once you know how to structure your email. Here are a few points to keep in mind when writing:
Always pitch by email – don't send pitches to brands (or PRs) on sites like Instagram. This looks unprofessional and your message will very often be ignored.
Get straight to the point – explain a little about your blogging career and how much you like the brand but don't waffle. Busy PRs and marketing executives don't have all day!
Focus on the positives – don't undersell yourself or explain that you're a new blogger, these are likely to put the brand off. If you're just starting out, mention how quickly your following is growing instead, for example that you have a 25% increase each month.
Be unique – help yourself stand out from the crowd by showing how your posts have personality.
Tailor your pitch for each brand – don't send the exact same pitch to more than one brand, tailor it to show why you want to work with them specifically.
Start with mid-sized brands – very small interiors brands typically don't have the budget to work with many influencers, while the biggest brands may choose to collaborate only with the biggest influencers. You have nothing to lose by pitching to these brands, but you may have more success with medium sized businesses.


Pitch Structure
The structure you use for your pitch can be really important – you want to make your email succinct but provide all the information a PR or brand might need about you and your audience. Follow this structure to make sure you don't leave anything out (or write too much!):
Email Subject – Make it short and to the point: let the brand know you want to work on a collaboration straight away. Something like 'Blogger Collaboration' or 'Sponsored Post' is enough.
Paragraph 1 – Introductory paragraph: this short paragraph should highlight your blog and why the brand is a great fit for your followers. Remember to include links to your website and social profiles.
Paragraph 2 – Blog traffic and influence: this is your chance to sell your blog through hard numbers (remember to not just talk about followers and likes, but clicks and sales on product links and referral links too).
Paragraph 3 – Demographic: briefly describe the age range, gender, location and interests of your followers.
Paragraph 4 – Previous work: briefly showcase previous work with similar brands, making use of descriptive text for your links. Link directly to your work – don't send the brand rep to another site or Pinterest board.
Paragraph 5 – Collaboration Ideas: briefly describe what you'd like from the brand and the content you can offer in return – remember to be creative here and show how you can tell that brand's story in your own way.
Media Kits – to send or not to send?
Having a media kit can be useful as a blogger, but it's not necessary to send this with your pitch. A lot of the time, brands and PRs won't even open attachments sent with pitches and, if they do, it might not contain the stats they're looking for. Plus, if you have monetary rates in your media kit, this closes the door for negotiations in subsequent emails.
Following Up with the Brand
If you don't hear back from the brand within a week or two, it's a good idea to send a follow up email. Use this email to double check that the brand received your pitch and that it was sent to the right person – remember to be professional and polite.
Only follow up once after sending your initial pitch and don't be disheartened if you don't hear back or it's a 'no' this time. There are lots of other brands out there and your pitch may have put you on the radar for future collaborations from this company. Asking to be put on the mailing list of the brand or PR will allow you to keep up with future releases and might inspire invites to events, where you can chat to and network with the PR.
Follow our tips above and you can be sure that each pitch you send is the best it can be! Do you have your own tips for pitching to interiors and homeware brands? Leave us a comment and let us know!
Did you know that as a blogger or influencer you can sign up to Press Loft for free? Connect and collaborate with hundreds of brands by clicking here.