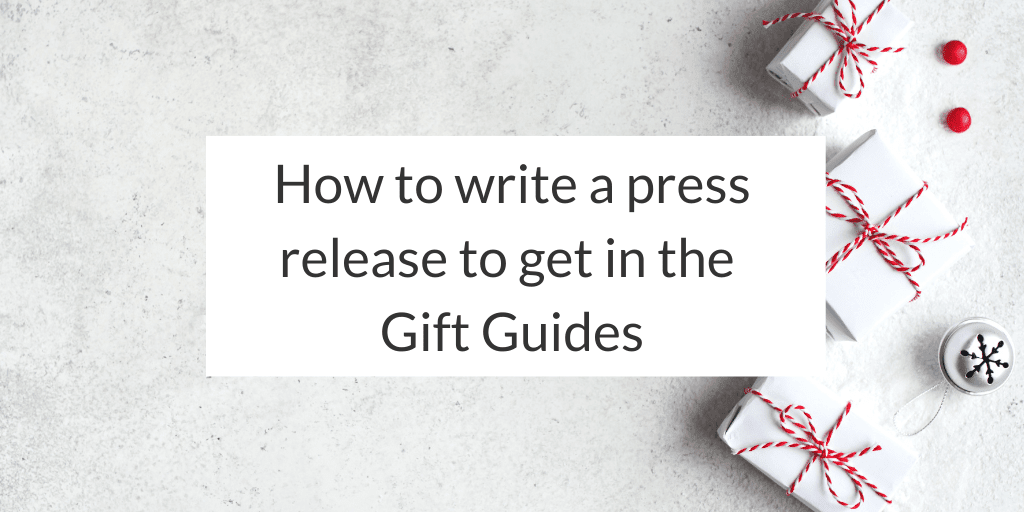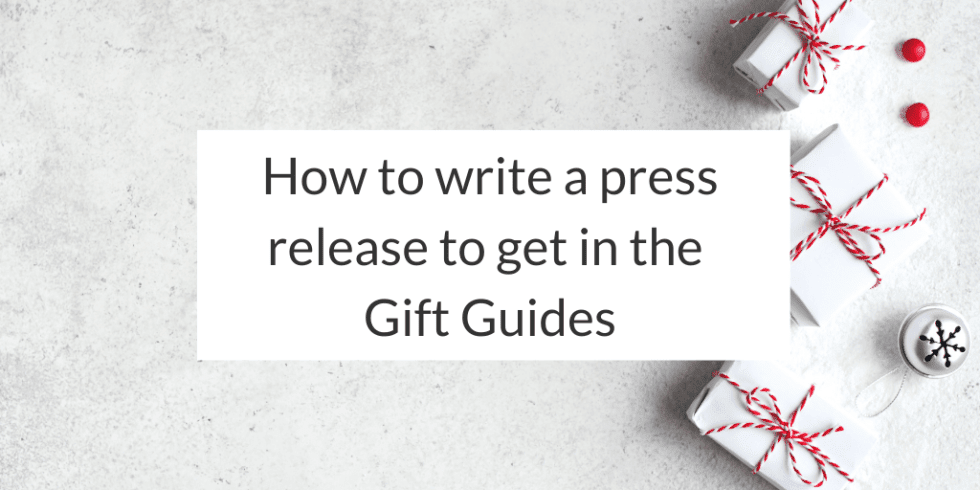 This post is also available in: German
Christmas is the biggest sales opportunity for gift brands and journalists are also working on Christmas in a much bigger way than other gifting periods. So in this blog post, we have put together some simple steps to follow so that you can get your gift products in the Christmas Gift Guides and become a press release pro!
Step 1 – Pick the products you are going to include
First of all, journalists want to know about new products and launches, so if you have new products there's more chance of getting coverage than with older products. Send a press release for your new products to maximise your press coverage. Unfortunately, not all brands have new launches each Christmas, so another way to get coverage for older products is to 'hook' your products around a specific type of gift guide that the journalists will be writing about.

The key groupings for Christmas Gift Guides are:

Gifts by recipient, eg. For Her / For Him / Teenagers / Children / Grandparents
Gifts based on interests, eg. Cooking / Gardening / Sports / Crafts
Gifts based on the product features, eg. British Made Gifts / Eco / Vegan
Gifts based on price point, eg. Under £20 / over £100 / Luxury Gifts
There are also the home categories that aren't gift guides but are Christmas-related. These include: Christmas decorations, guest bedrooms, or Christmas dining tables

You can include between one and ten products in a gift guide (ten being better than one!).

In your press release, try to stick to one and no more than two, segments eg:
'Gifts for Mum under £30' is fine, but 'Eco Gifts for Mums under £30' is too granular and so unlikely to get the journalists' attention.

Step 2 – Come up with a press release title which includes the gift guide segment.

Add a key message here: Must include the gift guide segment, and the word new if your product(s) are new.
After you have chosen your segment and the products you want to write about, you will need to come up with a catchy press release title. Don't worry about coming up with a creative title – stick to the facts, the journalists will want to find products that fit the topics they are covering, so use the segment clearly in the title. Here are a few examples of press release titles that will catch a journalists eye:

'Christmas gift for dog lovers under £30' – this includes two segments: dog lovers + price point.
'Christmas gifts for her' – one segment: gifts for her.
'Stocking filler idea for garden-loving mum' – two segments: garden + mum.

Gift press release titles should tell the journalist straight off the bat what your release is going to be about, this way, when a journalist receives your release among the other ones, they know exactly what yours is about. Remember, don't overthink your title: simple and to the point usually works the best!
Step 3 – Images

With gifts, simple cut-out images are perfect for gift guides but if you have larger items and are working on decorations and Christmas home products then Christmas styling (lifestyle images) certainly helps boost the variety of coverage you can secure.
I'll show you some examples of images on Press Loft to give you an idea of how to style lifestyle images.

Example of great cut-out images:
Example of great lifestyle images:

Step 4- Structure

Next up you will need to structure your press release.

Your press release will have three main parts: an introduction, a middle describing the products, and the conclusion with a roundup, pricing, and stockist information. The structure is important to get right so that the journalist can easily read through your release and gather all the information they need if they want to feature your products in the press.

The introduction should include a sentence about your company and a bit about what the press release will be for. So if it is about gift guides: 'Under £50 for her', make sure you include this in your introduction.

The middle section of your press release should explain each product included. Make sure you give all the information a journalist may need. If you have dimensions and other extra bits of vital information, include this in the conclusion. You don't want the main body of your press release to be filled with all the boring bits! Short and snappy wins the race.

The last part would be your conclusion, this would include rounding up all your products, then having a 'pricing', 'stockist', and any other important information you wish to add at the bottom of the release.

Step 5 – proofread

Proofreading is important to make sure that your release has no mistakes and to make it as easy as possible for the journalist to read. Proofread your press release yourself or send it to someone else for a fresh eye on your work.
Example Christmas Press Releases for inspiration:

This one from Soak and Sleep is about Christmas gifts for under £55:

https://www.pressloft.com/app/press-office/soakandsleep/releases/40802
If you have lots of products and want to do a variety of topics in one, then this example from Of Cabbages and Kings is great:

https://www.pressloft.com/app/press-office/ofcabbages/releases/40833
See all press releases on Press Loft here: https://www.pressloft.com/app/releases
---
What is Press Loft?
Press Loft www.pressloft.com is a PR platform specialising in the home, gift, and lifestyle sectors that helps thousands of brands to get their products into the press.
Their PR tools allow companies to easily secure press coverage and quality backlinks for SEO by connecting with their network of 20,000+ journalists, bloggers, and influencers.
Get Free Press Coverage – take a 60-day free trial (only available to new customers only.