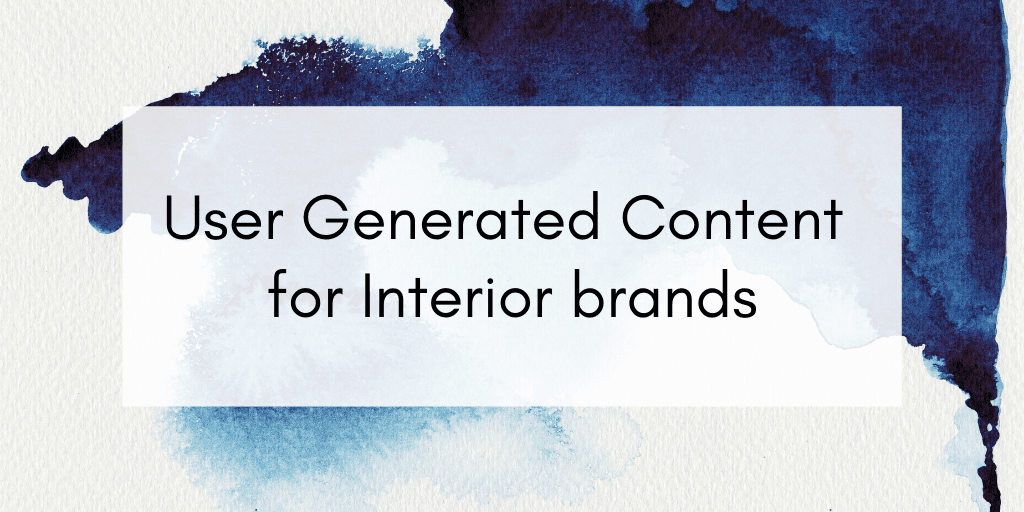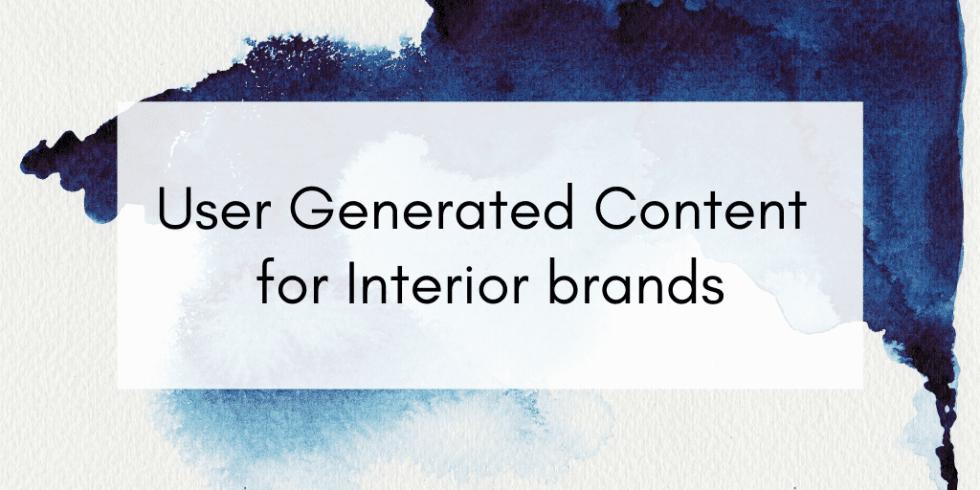 This post is also available in: German
User Generated Content (UGC) has become a huge buzzword in Marketing and it is now used heavily by brands to empower their communities/followers. The principle behind UGC is to encourage and let your community create content around your products and share that on social media. Buyers and customers trust the opinion of their friends, family, and colleagues who have used the products, so by adopting UGC as a part of your marketing strategy, you'll spark the desire for them from your potential customers.

Brands always need new content for their social channels, blogs and websites to remain relevant in the public's view. As well as creating their own unique content, interior brands are increasingly turning to their customers and publishing their content (UGC) on their social media channels, website and blog.
User generated content principles
User Generated Content is any content that is created by people themselves about a brand and can be text, videos, reviews or images. Users share the content on social media channels often using hashtags or tagging the brand on the post (without being paid!) and brands then share this content on their own websites, social media accounts, and other marketing channels.
A few years ago, Salesforce claimed:
Visitors to websites that include UGC galleries spend 90 percent more time on the site.
Social campaigns that incorporate UGC see a 50 percent lift in engagement.
Ads with UGC generate five times greater click-through rates.
UGC drives a 73 percent increase in email click-through rates.
UGC increases conversions by 10 percent when included in the online purchase path.
Why are brands using UGC?

Collaborating with customers and publishing their content is cost-efficient for brands who constantly need to update their social media accounts with new and relevant content.

User Generated Content promotes authenticity with customers who generally consider it to be more credible and real than content created by the brands themselves.

Customers today want to know what they're going to get before they order. They want detailed images, opinions, and reviews from previous customers of the brand. If they see original and creative content (UCG) on the brands social media channels and website, they are more likely to trust the brand as their community is embracing their products. They believe that they are going to get the same product, service or experience that they are looking for.

Collaborating with customers and being connected to their fans is current and on-trend for brands.

One example of an interior brand successfully using and putting UGC as an essential part of their marketing strategy is online furniture and homeware design brand MADE.COM (also a long term Press Loft client). They launched a UGC campaign that encouraged people to design and share their own 'happy places'. They have also created a hashtag #MADEdesign for a chance to appear in the campaign. The campaign featured content from Instagram fans, content creators and design experts who are all real customers. The UGC shared how these customers had introduced MADE.COM products into their home spaces.
Jo Jackson from MADE.COM said: 'We have a huge community of genuine fans who are sharing some amazing content on their channels daily using MADE products. This campaign is all about celebrating the MADE fans who have helped make the brand a success story. People are much more inspired by authentic advocates of a brand and we want to work with a variety of people, not just "influencers".'

MADE.COM now has an area on their website that features UGC mixed with their own content: https://www.MADE.COM/shop-instagram / https://www.MADE.COM/inspiration.

Using UGC on social media

The most common place to use UGC is on social media channels, Instagram being the primary platform for UGC. Here are a few tips on how to generate good quality UGC for social media.

Brands can create and encourage the use of brand hashtags or project-specific hashtags to be used when users generate and share their own content. It can provide an ongoing source of UGC. You can add the hashtag on your profile to boost usage. A great example is #wayfairathome: https://www.instagram.com/explore/tags/wayfairathome/?utm_source=ig_embed

Repost a shared image or video
This is a very easy and effective way to share UGC. Add a caption on the original post and thank the creator with a tagged mention in the caption.

Create a post with multiple images from different customers
If you have a lot of users who have submitted similar UGC then it can be collated into one multiple-image post. For example, customers might post about how they are using a particular paint colour in a room. Collating these images together and showcasing them in one post can be more impactful than featuring just one image at a time. You can also produce a video using Canva. It is important to give credit to the providers of the image.

Customers might share their experiences of your brand in a story and tag your brand. It is best to reach out to them as soon as a notification is received to ask if you can share the story on the official brand's Instagram Stories. Create a new highlight on Instagram to save the stories from your community. A great example again is MADE.COM: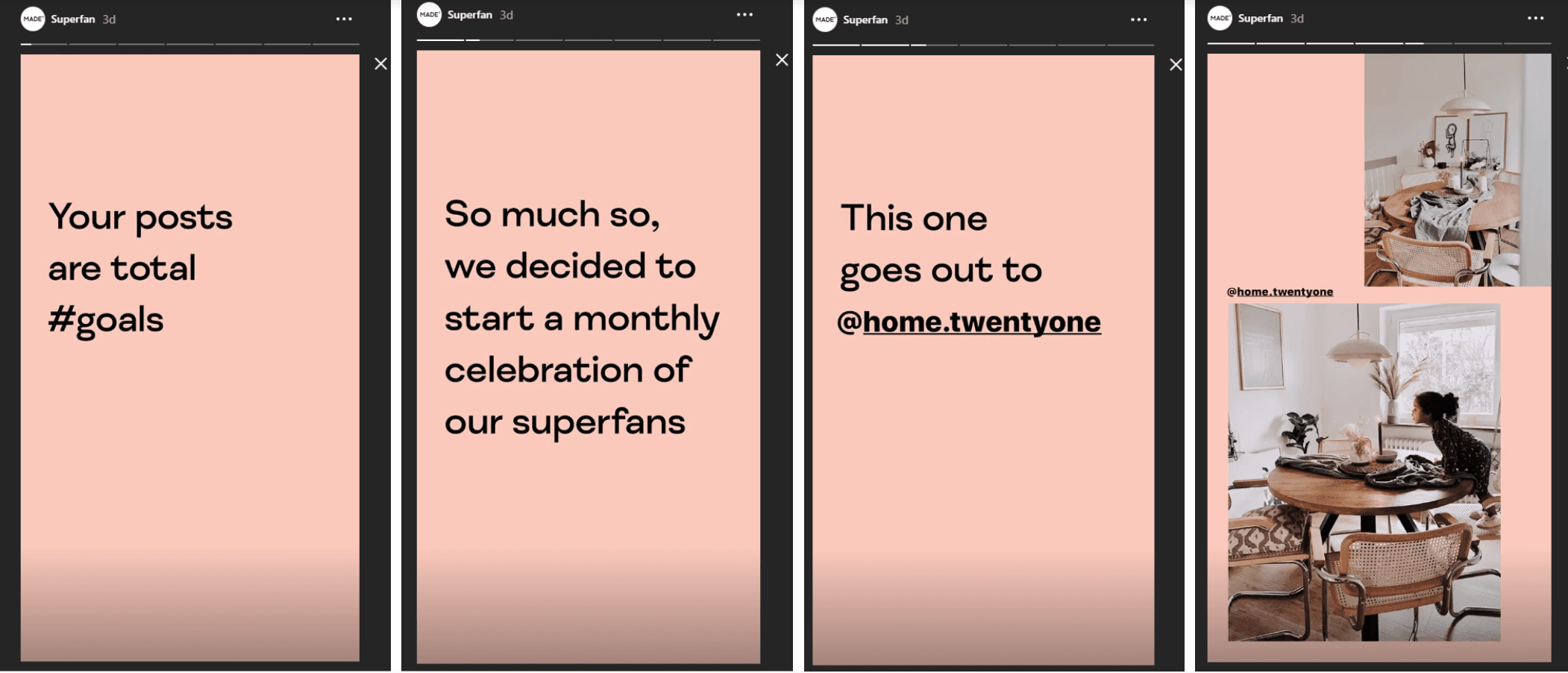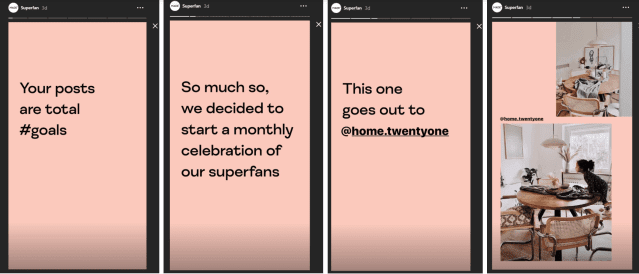 Social media contests create an opportunity for new UGC to be submitted or showcase existing UGC and often build up your UGC content quickly. Brands can ask their community to add a hashtag to their images and select the most creative user using your product.

User-Generated Content can be used effectively either as stand-alone campaigns or in collaboration with in-house marketing campaigns.

Remember that unless they are using your tag, it is best practice to seek the permission of the content creator before using their content, the answer will almost always be yes.
Here's how MADE.COM and Wayfair asked for permission to share the posts used: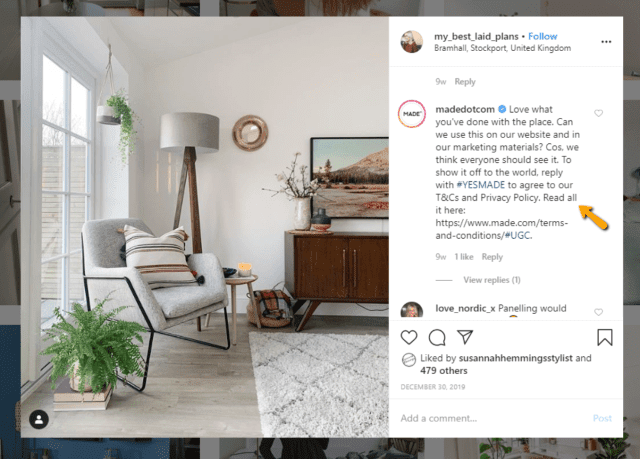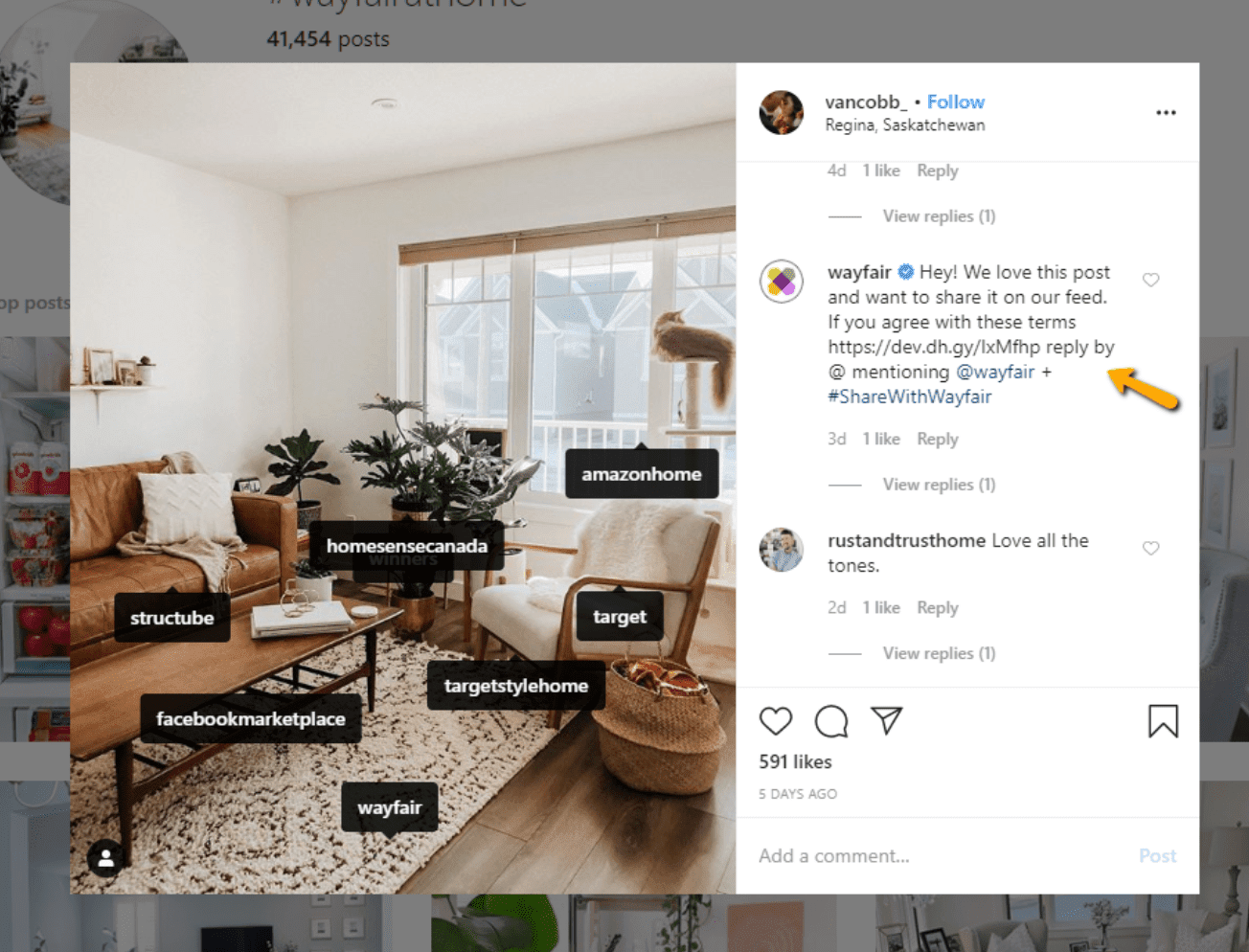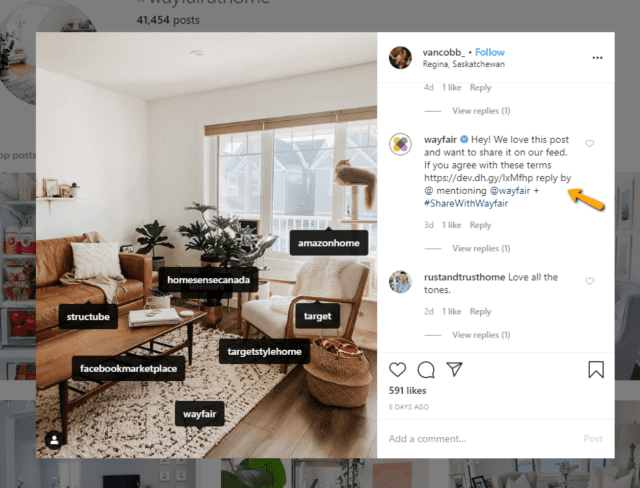 ---
What is Press Loft?
Press Loft www.pressloft.com is a PR platform specialising in the home, gift and lifestyle sectors that helps thousands of brands to get their products into the press.
Their PR tools allow companies to easily secure press coverage and quality backlinks for SEO by connecting with their network of 20,000+ journalists, bloggers, and influencers.
Get Free Press Coverage – take a 60-day free trial (only available to new customers only.