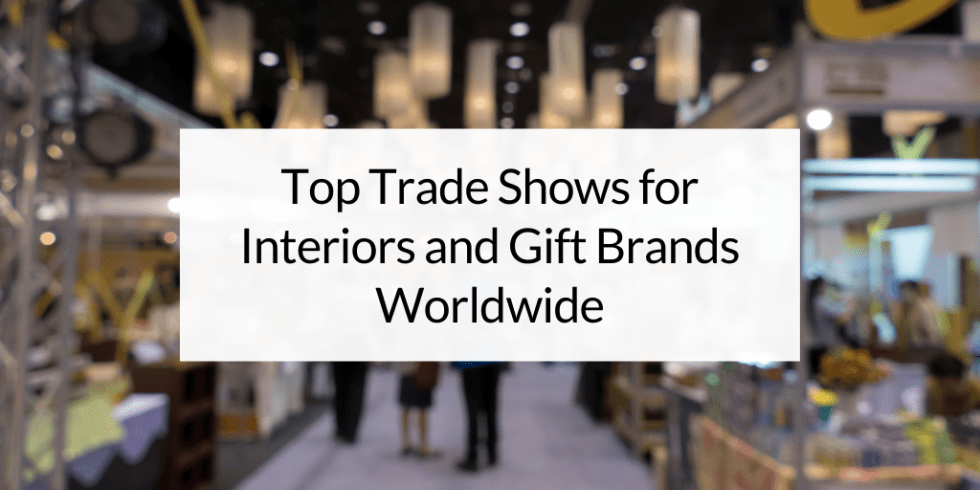 This post is also available in: German
Trade shows are a great place to find inspiration, to network and to learn something new.
We've put together a list of some of the best international trade shows happening around the world, all with a focus on gifts and interiors.
So what are you waiting for? Get out your diary and start planning!
Top Trade Shows for Interiors and Gift Brands Worldwide

Interior & Gift Trade Shows in the UK
Top Drawer
Where? London, England
When? January and September
Taking place at Olympia in London, Top Drawer's twice-yearly trade show is a date for the diary. It features over 1,500 design-led lifestyle brands from around the world. Expect new products and exclusive launches, unseen designers and top brands too. Sectors cover home, gift, tableware, kids and family, fashion, stationery and craft.
Autumn Fair
Where? Birmingham, England
When? September
Autumn Fair is a key marketplace for the home, gift and fashion industry and arguably one of the most important exhibitions of the year. Held in a central UK location, and with new key shopping destinations, Home, Gift and Fashion, Autumn Fair is a curated show for a new era of retail and the perfect shopping destination to get you ready for the Golden Quarter, retail's busiest and most profitable time of year.
Spring Fair
Where? Birmingham, England
When? February
Spring Fair is the hub for creativity, inspiration and business in the UK; bringing the home and gift retail industry together, building communities, nurturing collaboration and facilitating relationships that last. Designed around two buying destinations, Gifts and Home & Living, Spring Fair offers a unique show experience showcasing new brands, new launches and new products to help you find something different for your customers.
Grand Designs Live
Where? Birmingham and London
When? October and May
Located at Birmingham's NEC and London's ExCeL, Grand Designs Live features the latest in ideas, innovation and home project guidance. Visitors can find an array of exhibitors, experts and live talks, across four unique Project Zones; Build, Kitchens & Bathrooms, Gardens and Interiors.
The National Wedding Show
Where? Birmingham and London
When? October
The National Wedding Show is the ultimate day out for planning your perfect wedding! Meet with 200+ wedding specialists including venue coordinators, award-winning photographers and entertainment extraordinaires. You will have the chance to try on as many wedding dresses as you like without the need to book appointments and find everything you need to complete your bridal look. Groomsmen will also be treated to exquisite sartorial style from top suit makers. The very best cake makers and stylists will be on hand so you leave suitably inspired to plan your dream day!
Manchester Furniture Show
Where? Harrogate, North Yorkshire
When? July
Your one-stop-shop for essential summer buying. Renowned as the most relaxed, friendly and easy-to-visit furniture and interiors show in the UK, Manchester Furniture Show has relaunched as the refreshed, revitalised and refined mid-season buying event that the sector needs post-covid.
Living North LIVE
Where? Harrogate, North Yorkshire
When?
Living North LIVE is one of the most established Interiors and spring shopping events in the North. Visitors can expect unique and inspiring accessories and advice from the region's premier interiors companies as well as exciting garden design and a quality lifestyle shopping experience. Living North also boasts the biggest food hall in both the North East and Yorkshire; you are sure to find some quirky and tasty treats to indulge in.
Home & Gift Buyer's Festival
Where? York, England
When? March
Home & Gift is the largest showroom in the North, with an ever expanding line-up of 800+ brands from household favourites to emerging designers, providing the perfect location to discover next season's best sellers. Home & Gift is a trade show unlike any other, so its no wonder that it has been an industry favourite for the past 58 years.
Country Living Christmas Fair
Where? Harrogate, Glasgow and London
When? November to December
Celebrating a timeless and traditional way of living, the Country Living Fairs bring the pages of the magazine to life in an unmissable day-out for all generations to enjoy. You'll find unique gifts for friends and family, home styling advice, beautiful handmade decorations and tempting food and drink made by small artisan producers – and it's all under one roof.
Celebration of Craftsmanship and Design
Where? Cheltenham, Gloucestershire
When? August
Established in 1995, Celebration of Craftsmanship & Design, the largest selling exhibition of designer-maker furniture in the UK, runs annually from its stunning neoclassical location in Cheltenham. The newest work of around seventy designer-makers comes together to form a unique and fascinating collection, and while the emphasis is on furniture, this is complemented each year by work from several other disciplines such as jewellery, sculpture, art and glass.
The House & Garden Fair
Where? London, England
When? June
Whether it's shopping for indoor or outdoor living, The House & Garden Fair will have hundreds of brands that will inspire and help bring your house to that next level of style and sophistication. From flooring to furniture, wall coverings to accessories, lighting to luxury candles – the fair will have an eclectic array of handpicked items that reflect skilled craftsmanship and good quality, for every room in your house.
Design London
Where? London, England
When? September
Across the four days of Design London get set to explore everything from sought-after brands, to topical discussions in a kaleidoscopic auditorium and exclusive parties. The striking venue will also showcase an array of captivating lighting installations plus a specially built Danish Pavilion and an unmissable design film premiere.
Decorex
Where? London, England
When? October
Decorex offers an unparalleled opportunity for the interior design community to discover exquisite creations from a range of international exhibitors. Over four days at Decorex, you'll see the finest concepts and products from a hand-picked collection of unique brands. Presenting established collections and launching new products, Decorex is guaranteed to delight and inspire this year.
Ideal Home Show
Where? London, England
When? March, as well as a Christmas show in November
From inspiring ideas, to innovative products and on-trend solutions for your home, the Ideal Home Show, sponsored by NatWest, brings together full scale show homes, over 600 companies, tonnes of free talks, the latest technology and fresh ideas from our team of experts. The show will also offer health and wellbeing advice, and an opportunity to be pampered, all for the price of your ticket.
Wales Spring Fair
Where? Llandudno, Wales
When? January
Situated in the Venue Cymru Arena in Llandudno, North Wales, the show has gained a worthy reputation for providing fresh ideas and innovative products to buyers from across Wales and the rest of the UK. Buyers visiting the show will have the chance to discover fabulous new products as well as seeing the latest items from their favourite suppliers. The Wales Spring Fair presents an unmissable opportunity for buyers to stock up on the latest must-have gifts.
Interior & Gift Trade Shows in Europe
The Autumn Gift & Home Fair
Where? Dublin, Ireland
When? August
The Autumn Gift & Home Fair is Ireland's leading Trade Fair for Giftware, Home, Tabletop, Jewellery, Fashion & Accessories, Seasonal products and Wellbeing. Taking place each August in Citywest International Events Centre, Dublin, the Fair features many new Exhibitors and hundreds of new products each year, providing fresh and inspirational ideas to delight your Customers in the lead up to the Christmas season.
Ambiente
Where? Frankfurt, Germany
When? February
Ambiente promises to reveal what is shaping the global market for "Dining, Living and Giving". The show features 4,451 exhibitors from 92 countries. For conscious designers and retailers, there's a special sector on Ethical Style. And there are also lectures, events with industry experts and award ceremonies – plenty of opportunities to learn and network.
TrendSet
Where? Munich, Germany
When? January and July
TrendSet is the International Trade Fair for Interiors, Inspiration and Lifestyle in Munich. As the largest trade fair of its kind in the southern German-speaking region, TrendSet attracts around 35,000 trade visitors per year in January and July from buyers and top decision-makers in all forms of retailing.
blickfang
Where? Several locations across Europe, including Hamburg, Vienna and Zürich
When? October to November
The blickfang is the largest design shopping event in Germany, Austria and Switzerland. It has been held annually at seven European locations for over 25 years: Basel, Hamburg, Stuttgart, Vienna, Cologne, Bern and Zurich. Around 1,000 designers take part in blickfang every year, with work coming from the areas of furniture, products, fashion and jewelry.
Heimtextil
Where? Several locations across Europe, including Hamburg, Vienna and Zürich
When? October to November
Heimtextil is the largest international trade fair for textile interior design in Frankfurt am Main. As the first trade fair of the year, it is a mood and trend barometer for the new business year, showcasing promising new-comers along-side other well-know exhibitors from the industry.
Dutch Design Week
Where? Eindhoven, Netherlands
When? October
Dutch Design Week is the biggest design event in Northern Europe. It showcases the work and ideas of more than 2,600 designers. Every discipline of design is covered with plenty to see for the interiors and craft industries. With a focus on innovation and experimentation, expect to see things you've never seen before.
imm Cologne
Where? Cologne, Germany
When? January
imm Cologne is one of the best-regarded international interiors and furniture trade shows in Europe. It's the first show of the year and always aims to present the trends that will shape the industry for the months to come. There's a huge variety of interior design ideas on show, as well as innovative materials and fabrics.
Maison&Objet
Where? Paris, France
When? January and September
Maison&Objet is a professional trade fair for the lifestyle, decoration and design industries. Twice a year, visitors from around the world flock to Paris to discover both contemporary and classic design. Exhibitors from over 2,500 brands are split into sectors including home and fashion accessories, gift, cookware, kids and family, home linens, furniture and interior design.
Paris Deco Off
Where? Paris, France
When? January
The Paris Deco Off celebrated its 10th anniversary in January 2019. This exciting event takes place in 120 showrooms and galleries around the city. With a focus on floor and wall coverings, home textiles, wallpapers, lighting and home accessories, there's plenty of design inspiration to be found.
Salone del Mobile Furniture Fair
Where? Rho (just outside Milan), Italy
When? April
The Salone del Mobile Furniture Fair is part of Milan Design Week. And it's very much the hub of the event. It's one of the world's largest furniture fairs covering 20 halls and 1,100 brands. Exhibitors are split into three categories. "Classic" focuses on tradition and craftsmanship, "Design" looks at innovation and functionality, and "xLux" offers a take on contemporary luxury living.
Stockholm Furniture and Light Fair
Where? Stockholm, Sweden
When? February
If you're looking for Scandi design inspiration, look no further than the Stockholm Furniture and Light Fair. It's the world's leading event for Scandinavian design and offers brand new furniture and lighting ideas. There are networking opportunities, great lectures. And the event falls within Stockholm Design Week so there's plenty going on around the city too.
Interior & Gift Trade Shows in Asia
Design Shanghai
Where? Shanghai, China
When? March
Design Shanghai is Asia's biggest design event. So big, in fact, that it describes itself as "six shows in one." These six shows include kitchen and bathroom design, contemporary design, classic and luxury design and new materials. You can expect to see some of the best brands from across the world, many of which fuse eastern and western design to great effect.
Dubai Design Week
Where? Dubai, United Arab Emirates
When? November
Dubai Design Week is the largest creative festival in the Middle East. It takes place in venues around the city and aims to reflect Dubai's position as the regional capital of design. The six-day programme is made up of more than 200 events, covering a range of disciplines. Think architecture, interior products, furniture and graphic design.
Malaysian International Furniture Fair (MIFF)
Where? Kuala Lumpur, Malaysia
When? March
MIFF ranks amongst the top furniture fairs worldwide. Over 600 international and Malaysian designers showcase their designs for bedrooms, living areas, kitchens, bathrooms and children. There are also seminars with industry experts and some great networking events.

Interior & Gift Trade Shows in North America
The Atlanta International Gift & Home Furnishings Market
Where? Atlanta, USA
When? January and July
The Atlanta International Gift & Home Furnishings Market showcases an incredible 8,000 different brands. You can expect to find exciting new products and events associated with the gift, home décor and furnishings sectors. There's also a huge area dedicated to the show's famous rug market.
Interior Design Show
Where? Toronto, Canada
When? January
The Interior Design Show first began back in 1999. Since then it's grown to become Canada's top showcase of new interior products and furniture. It always promises the best designers and most cutting-edge concepts from North America and beyond.
Las Vegas Market
Where? Las Vegas, USA
When? July to August
Las Vegas Market is the fastest growing gift market in the United States. It showcases gift, home décor and furniture from over 4,000 brands across 1.6 million square metres. And, as you'd expect from such a glitzy location, it offers great hospitality and amenities too.
NY NOW
Where? New York, USA
When? February and August
Head to the Big Apple for a gift and interiors extravaganza. NY NOW is a twice-yearly event showcasing home, lifestyle and handmade products from 2,300 brands. There are talks with top influencers and designers, new product launches, happy hours and lots of networking opportunities.