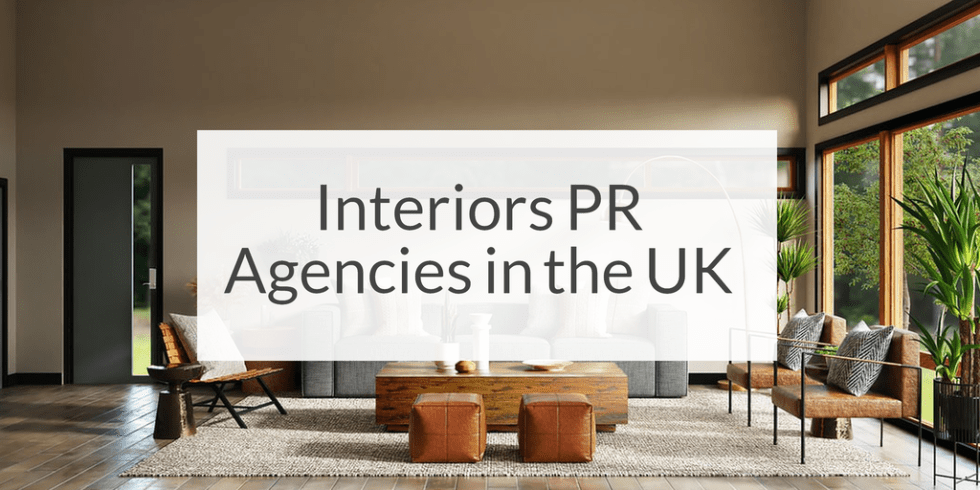 Here is a round up of just some of the great interiors PR agencies in the UK who use Press Loft from our founder and former PR agency owner, Nicola Snell. (Updated September 2023)
………………………………………………………………………………………………………………………………………………….
Press Loft works with many great interiors and consumer PR agencies around the world – they use Press Loft to manage clients image libraries, streamline their media outreach workflow, save time sending images with caption info, boost coverage, find additional leads and more. In fact, the reason Press Loft was originally set up was because I had a PR agency (zero2one PR) and wanted to better organise client's image libraries.
Brands often ask me to recommend PR agencies when they want to boost their PR, do events, product launches and features, or to outsource the time spent managing Press Loft & PR activities to a PR pro. Here is a round up of few of the great ones on Press Loft:
UK Interiors PR Agencies:
14 Septembre – The London branch of this famed French PR Agency joined Press Loft in 2023 with a number of top brands such as Ligne Roset. They are specialists in international PR for interiors, design, hospitality and food clients across their international network.
Big Bark PR – This PR agency is an expert at supporting home, interiors, gift and pet brands, working in social media, event management and product placement as well as media relations. Current clients include Lifestyle floors, Tile Mountain and Pollyfields.
Democracy – Democracy is an award-winning PR, social and digital agency which works with a range of clients but has special expertise in interiors – brands they look after include Dulux, Travis Perkins and Tile Giant.
DMC PR:

This agency is home to an award-winning team of passionate PR professionals and storytellers – With more than 15 years of expertise, they are pros at crafting and communicating brand stories for clients such as Back in Action and Grohe in a way that really resonates with their target audience.

FAB Communications – Experts in inspiring brand advocacy, Fab Communications helps put brands on the path to "brand fame". They have an impressive client list, working with the likes of KitchenAid, Sass and Belle and Le Creuset.
Full Circle Communications – The Full Circle team is made up of a collection of media and comms specialists who are experts in delivering a range of services including webinar creation, social media support, media outreach, customer publication development and technical article writing.
JWC PR – Cheshire-based, JWC PR have been specialists in homes and interiors PRs for 10 years. Some of their current interiors clients include Porcelain Superstore, Thorndown Paints and Woodpecker Flooring.
Inhouse Communications – Homes & Interiors specialist PR agency established 18 years ago. They work with a range of interiors clients, including Blinds2go. They provide affordable PR and marketing services.
Portrait Communications – Portrait Communications was created in 2009 by university friends Jo and Rachel, and they develop creative media relations campaigns as well as offering services such as content development, look book production and copywriting. Clients include Annie Sloan, Talking Tables and Davey Lighting.
PR Direct – This home-specialist PR agency works with the likes of DEXAM, Kilner and GreenPan, along with other interiors and electricals brands. The talented team has over 20 years experience.
PR First – London-based interiors and luxury agency PR First is fantastic at what it does, with the team currently working with some big names including Carpetright, California Shutters and Arteriors.
Pursue PR – As a relatively new agency, they are growing from strength to strength, with a fast-expanding team and an impressive client portfolio including Iconic Lights, Woodchip and Magnolia and Loom and Last.
Simpler PR – One of Press Loft's longest standing clients, they were founded in 2002 and are a specialist interiors and lifestyle agency, working with Atkin and Thyme, Pushka Home, dar lighting group, and more!

Esprit PR – Specialist in Kitchen PR, the wonderful Karen and her team organise PR, marketing, events, sponsorship, shoots and more for their top notch range of clients from the UK, Germany and beyond. Clients include Duravit, Kaldewei and Kelda.
Hornby Whitefoot – Fantastic garden and leisure specialists since 2001, Hornby Whitefoot has a collaborative network of senior PR professionals based at offices around England. They have helped a wide range of companies such as Robert Dyas, Johnsons Lawn Seeds and many more, to communicate their news, build business and reposition their reputations.
Baytree PR – Interiors PR specialists, Baytree have been a client of Press Loft's for many years. They support a large range of clients with digital PR, print PR and social media marketing to drive brand awareness.
Select First – Select First is an interiors and built environment specialist agency with a huge amount of experience working with many flooring brands including Quick-step, Abingdon and Floor_Story.
Novos – Novos are eCommerce specialists focused on acquiring new customers through SEO, content marketing & Digital PR.
The Fox Collective – the Bristol based PR agency that works across beauty, fashion interiors and travel brands securing high levels of quality coverage through media relations, influencer marketing, events, product launches and more.
Sally Rowland – Sally Rowland PR is a boutique consultancy offering a dynamic and intelligent approach to communications for the interior design industry. They have worked with high-calibre clients such as C&C Milano and The Design Archives amongst many more.
WPR: WPR is an agency that gets people talking – with clients such as

Benchmarx

Kitchens and Triton Showers on their books, these guys know a thing or two about the art of creating a conversation around your brand that hooks in your intended audience and secures results.

We Are Boutique: This agency is one who loves to push boundaries with their approach to PR for brands across the interiors and lifestyle spectrum, including Ted Todd, Big Bathroom Shop and Prestigious Textiles.
Arena PR – Arena PR cover both corporate and consumer PR for huge brands such as Poundland and Misguidded. Broadsheet or tabloid, influencer or editor, they have broad media relationships that deliver results for their clients.
Journey Further – Performance Marketing Agency Journey Further believe that everyone will benefit from greater clarity. They have worked with the likes of Asda, Sky and Matalan to name a few.
Escapade PR were new to Press Loft in 2023 with their client Mars Chocolate Drinks and Treats (our mouths water each time they send out a press release!). They are a full-service PR agency specialising in food and drink, FMCG and retail.
Brick Digital – digital growth agency for retail brands, Brick Digital offer a full suite of marketing services including PR, SEO, ppc and email.
Pocket Rocket Consultancy – small but mighty, this agency is a full service digital agency which offers PR, social media marketing and web development, video content and more. They have experience across interiors, lifestyle and food and drink.
Left, Right and Centre – Tara Sylvester has been running her boutique PR agency for over 20 years. Based in West London, Tara looks after a range of kitchen, furniture, interiors and appliances supporting them with activities from awards, to media relations, social media and copy writing.
Unearth PR – This Devon based agency provides affordable PR services to interiors, fashion and beauty clients across the UK.
Luke Batchelor PR – Luke has worked in PR for over 20 years for brands such as The White Company. More recently he established his own PR consultancy looking after clients in the interiors, arts and design industry. Highly skilled in PR, events and interiors styling, Luke prides himself on building and maintain relationships with the media to ensure his clients' news gets seen by the right people.
Many more excellent PR agencies use Press Loft and the above UK-based agencies are just a few of our favourites. Get in touch directly to find out how they can help your business.
Related PR articles:
If you'd like to try Press Loft for your brand or PR agency, sign up today for a two month free trial by clicking here.
Header image from Darlings of Chelsea