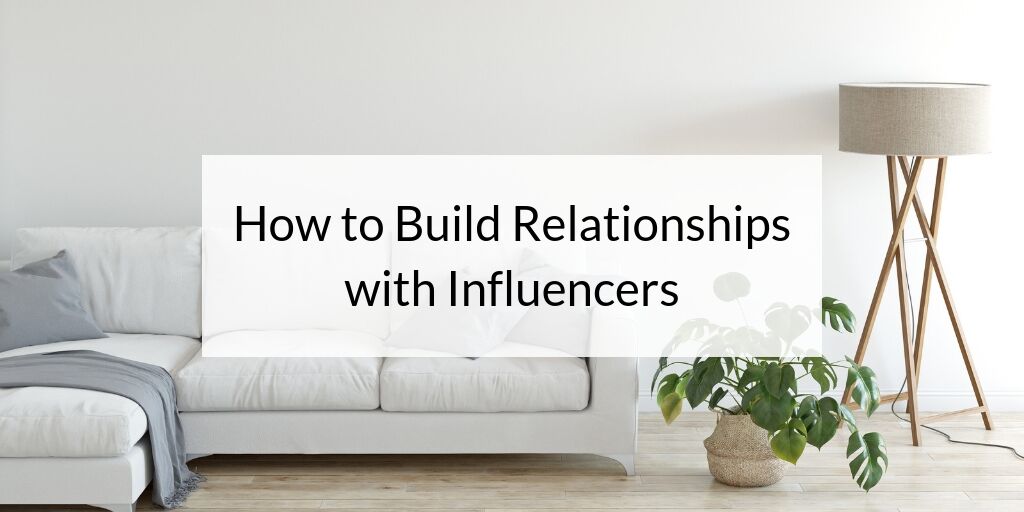 Good, long-term influencer relationships are the ultimate goal in influencer marketing. It can take a long time to find the right guys for the job. So when you've found them, you want to make it work.
So how do you build relationships with influencers…? Pretty much like you build any kind of relationship. Put in the effort. Try to understand them. Keep talking.
And check out our top tips for building an influencer relationship that will stand the test of time.

Get to Know Them…
You can't just jump straight in and ask the first influencer with 1k+ followers you come across to collaborate with you. You need to do some thorough research first.
The fit has to be right. The influencer and their content need to have some kind of affinity with your brand.
Follow Them
Follow any influencers you're interested in wherever they have an online presence – social media accounts, a personal blog. Get to grips with who they are and what they do.
Find Out About Them
By following your influencers you'll get to know them. The number of followers they have is important. But you also need to know:
What kind of content they like to post and whether this content complements your brand image.
How often they post and whether this would suit the campaign you have in mind.


Who their audience is and how engaged they are. How many likes and comments do their posts get? Does their audience coincide with yours?


The brands they have worked with in the past. They may favour brands that emphasise their luxury or eco-friendliness or innovation. Does this sound like you and your brand?
The info you learn about your prospective influencers will help you to decide if they can help to reach your marketing goals. And if your brand will be of interest to them.

Get in Touch…
Once you've learnt all about your prospective influencers you'll have a clearer idea of who to approach. Now it's time to get in touch.
From your research, you'll probably have realised that no two influencers are the same. Sending out a template email to a whole spreadsheet of prospects won't work. You need to adapt your communications for each influencer you contact.
Here are a few pointers:
Comment on their content. Praise goes a long way. And it shows that you've taken an active interest in what they do. Rather than just the number of followers they have.
Tell them about your brand. Talk up your values. If you can connect on something they're passionate about, you're on to a winner.
Pitch your collaboration idea and tell them what you're offering in return.
Give and Take…
During the short, but explosive, time influencer marketing has been a thing, compensation for collaborations has come a long way. Once upon a time, social media influencers would be happy to promote a product in return for a little freebie.
Not anymore.
Here are a few things brands need to remember when approaching an influencer:
You Don't Get Something for Nothing
The best influencers make a living from being influencers. They've long since realised the value of what they do for brands. And they're not prepared to work for peanuts.
Offering your influencers fair compensation has to be a founding principle of the relationship. If you want to build a long-lasting partnership, you need to value what they do.
You Need to Make your Offer Stand Out
Influencers can only promote a limited number of brands. They don't want to lose followers by turning their feed into one long ad break.
And they're being approached by brands all the time. So your offer needs to pop out at them from the email inbox.
As always, money talks. But so does the offer of unique experiences or opportunities. VIP entry to your next big event. An insider look at how your products are made. An influencer takeover of your Instagram story.
Think outside the box and use your influencer research to pitch just the right offer.

Talk it Through…
As with any relationship, communication is key. Conversations with your influencers need to open and consistent.
Talk About Your Goals
Openly discuss your goals from the start. What do you hope to get out of the collaboration? How would you like to measure its success?
Ask your influencer for their input. How realistic do they think your goals are?
Be transparent and work as a team. Making sure you're both on the same page should avoid any misunderstandings further down the line.
Discuss Timescale
What deadlines will you put in place? When making this decision it's worth remembering that top drawer content can take time. Influencers don't snap that beautiful picture or write that engaging blog post on the spur of the moment. Work together to agree on a post timeline.
Follow Up
Once the content has been posted, ask your influencer to analyse its success with you. Were goals met? What was good? And what could be better?
Involving your influencer in these discussions can help them to create even better content for your brand next time. And make them feel much more invested in your brand.

Trust Them…
We get it. You're used to being completely in control of your brand image. And it can be hard to trust someone else with your content creation.
But if you're collaborating with an influencer that's exactly what you have to do.
Obviously, you'll have input. But once you've discussed your aims and your ideas, you need to take a step back.
Influencers only build up large and loyal followings by creating content that works. They know what engages their audience (and by extension yours). And they know how to promote your brand in an authentic, un-salesy way. Which is exactly what you want.
Give them space to be creative. And leave them to craft the kind of content that can really raise the profile of your brand.
---
What is Press Loft?
PR platform specialising in the home, gift and lifestyle sectors that helps thousands of brands to get their products into the press.
Our PR tools allow companies to easily secure press coverage & quality backlinks for SEO by connecting with our extensive network of 18,000 journalists, bloggers and influencers.

Brands using Press Loft can now submit a Collaboration Alert detailing their campaign and follower requirements! These alerts are sent to our network of 1000s of bloggers and social media influencers that match the requirements. Influencers apply through our platform and brands then select who they would like to work with.

Did you know that we offer a FREE trial* of our PR tools (including Influencer outreach) for gifts and interiors brands? Click here to start your free trial and join over 1000 brands already using Press Loft for their business.
*This trial is only available for new members